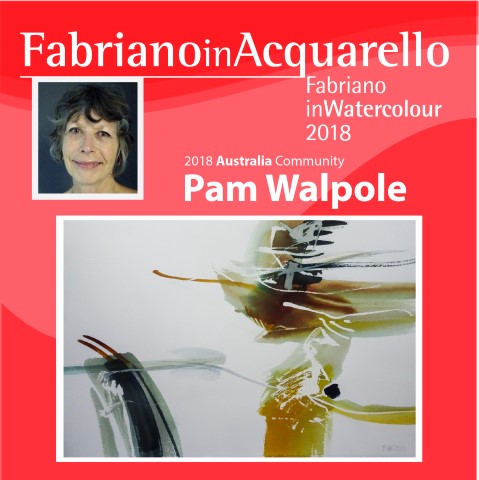 2018 NEWS 
Pam is one of 13 Australian artists selected for the
FabrianoinAcquarello 2018  Watercolour exhibition in Fabriano Italy.  70 Countries represented.
Other works at Cool Art Gallery, – Unit 5, 43 Access Crescent. Coolum Beach and
Red Hill Gallery – Musgrave Rd, Red Hill Brisbane

Born Nhill, Western Victoria, Australia.
Studio – Sunshine Coast, Queensland, Australia
A diploma in Commercial Illustration at Brisbane Central  Technical College – now QUT, followed by a career as a graphic artist in various Advertising Agencies until completing a Fine Art degree at the Brisbane Institute of Art.
Pam has had 15 solo exhibitions to date and many selected exhibitions. She has won numerous awards in both painting and sculpture, spanning her Fine Art career.
Her work is in Public, Private and Corporate collections, throughout Australia and overseas.  She has exhibited in Japan, and South Korea, where she participated in an artist exchange program with the International Creative Community.  She facilitated environment related workshops with children creating posters for the Brisbane City Council buses. Paintings for the Private and Public Sunshine Coast University Hospitals and Royal Brisbane Women's Hospital in 2016.
Pam has collaborated with artist Yanni Van Zijl on environmental installation art. To date for the Noosa Long Weekend Festivals 2015 and 2016,  Art + Architecture Conference, Townsville 2016, Horizon Festival –  Coolum2017 and Floating Land – Noosa 2017
President of the Queensland Wildlife Artists Society in the 1980s.                                                                                       1994 – 1995 – President of the Society of Sculptors, Queensland.