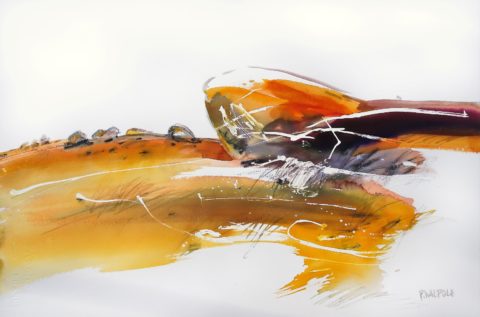 2019 NEWS 
Yanni & Pam as art forARTsake has WON the Environment Award at SWELL Sculpture Festival 2019, Currumbin, Gold Coast with their 15 m 'Sea Spirit'. (see Installations for image) 60 selected sculptures Nationally are exhibited along the beach and walkway from 13 – 22 September.
Pam  has been selected for 'Sculpture on the Edge' at Spicers Tamarind Resort, Maleny. 21 Sept – 13 October.
 October – art for ARTsake selected to participate in 'Point to Point'. 'A Plague of Poly pods' – installed at Boreen Point, outside the Noosa Regional Gallery and the rocky foreshore leading to Noosa National Park. 11- 27 October
 'In-situ'. A plein air exhibition of 8 sunshine coast artists – at Cool-Art Gallery – 43 Access Cr. Coolum
May 2019 – Pam is one of 15 artists selected to represent Australia for the FabrianoinAcquarello 2019  Watercolour exhibition in Fabriano Italy.  70 Countries represented.  
Born Nhill, Western Victoria, Australia.
Studio – Sunshine Coast, Queensland, Australia
A diploma in Commercial Illustration at Brisbane Central  Technical College – now QUT, followed by a career as a graphic artist in various Advertising Agencies until completing a Fine Art degree at the Brisbane Institute of Art.
Pam has had 15 solo exhibitions to date and many selected exhibitions. She has won numerous awards in both painting and sculpture, spanning her Fine Art career. Her bold contemporary style depicts the landscape – from an aerial perspective or close-up sections of waterways. Natural disasters  are expressed in charcoal, paint and mixed media – a subject Pam finds compelling –  bushfires, floods and destruction.
Her work is in Public, Private and Corporate collections, throughout Australia and overseas.  She has exhibited in Japan, and South Korea, where she participated in an artist exchange program with the International Creative Community.  She facilitated environment related workshops with the Brisbane City Council.  Paintings throughout the Greenslopes Private Hospital and others including both the Private and Public Sunshine Coast University Hospitals and Royal Brisbane Women's Hospital.
Pam has collaborated with artist Yanni Van Zijl under the name of art for ARTsake on environmental installation art for Festivals and events .
President of the Queensland Wildlife Artists Society in the 1980s.
President of the Society of Sculptors, Queensland. 1994, 1995.