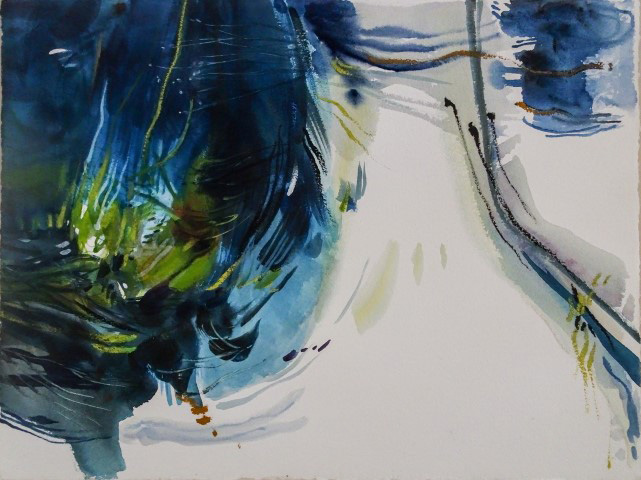 'Whirlpool' – mixed media on paper. 112 x 94 cm framed.
LATEST NEWS – Pam and Yanni Van Zijl – a collaborative team of two –  have been busy installing Pop up ephemeral art in and around the Sunshine Coast and North Queensland.   Creative installations with an environmental message, pointing out the dangers of plastic to our marine and birdlife … but also art for art sake. So follow us on facebook   Art ForARTsake
Born in Nhill, Western Victoria, Australia.                                          Studio – Sunshine Coast, Queensland, Australia
A diploma in Commercial Illustration at Brisbane Central  Technical College – now QUT, followed by a career as a graphic artist in various Advertising Agencies until completing a Fine Art degree at the Brisbane Institute of Art.
Pam has had 15 solo exhibitions to date and many selected exhibitions. She has won numerous awards in both painting and sculpture, spanning her Fine Art career.
Her work is in Public, Private and Corporate collections, throughout Australia and overseas.  She has exhibited in Japan, and South Korea, where she participated in an artist exchange program with the International Creative Community.  She facilitated environment related workshops with children creating environmental posters, book illustrations and banners for the Brisbane City Council. More recently – paintings for both the Private and Public Sunshine Coast University Hospitals.
Pam has collaborated with artist Yanni Van Zijl on environmental installation art. To date for the Noosa Long Weekend Festivals 2015 and 2016 and Art + Architecture Conference, Townsville 2016
President of the Queensland Wildlife Artists Society in the 1980s.                                                                                       1994 – 1995 – President of the Society of Sculptors, Queensland.