Pam and Yanni Van Zijl formed Art forARTsake in 2016, to bring art to the people in Public places. Their aim is to create art – often with an environmental message – or purely for the sake of ART.

'Aquarius Plasticus' – 2016 – 20m x 5m. – recycled plastic and a 9 metre canvas mural
 'Aquarius Plasticus'  for the Noosa Long Weekend Festival 2016 – a mythical sea creature with writhing tentacles – a comment on the dangers of plastic in our oceans. As a backdrop to the theme, Pam painted a 9 metre long x 150 cm high mural to line the wall of  the ramp at 'the j' theatre, Noosa.
As part of the NOOSA LONG WEEKEND FESTIVAL 2015, our art installation at 'the j', Noosa, Yanni and Pam  created a huge web which suspended above the ramp and atrium at 'the j' theatre. Artfully lit with blue and green lights, pink and purple, depending on the events, it looked spectacular at night.  Using 1500 recycled plastic milk bottles, they used the very materials that creates pollution in our oceans and hence endangers marine life.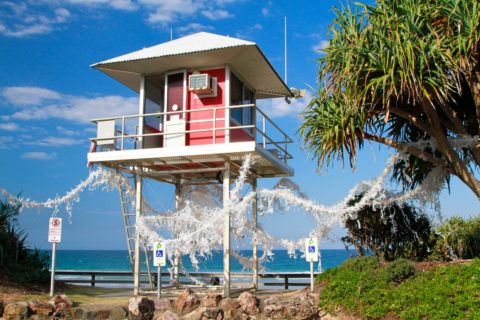 For the HORIZON Festival 2017, 'Australis Plasticus' – a morphed sea creature has relocated itself
under the Coolum beach Lifeguard tower!!!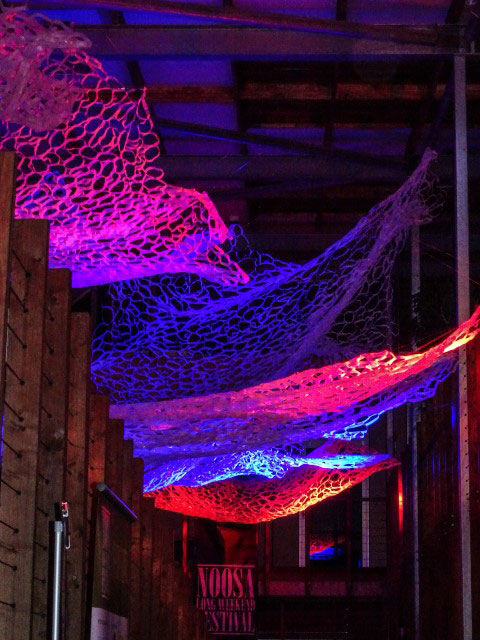 'Ebb and Flow' – a curtain of light representing the tidal flow – 2015
 Recycled polypropylene plastic bottles – 20 m long  x 6 m wide above the Atrium at 'The J'- Noosa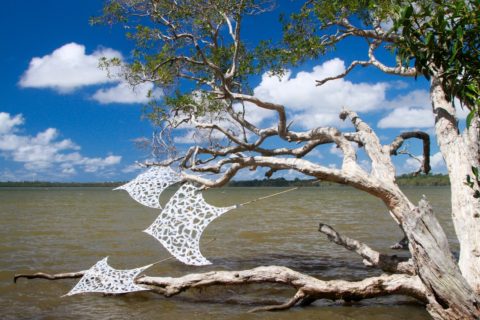 'In harmony' – Lake Weyba – Three stingrays glide above the water of Lake Weyba
2m x 3m ea. bamboo , recycled plastic – a project for Art forARTsake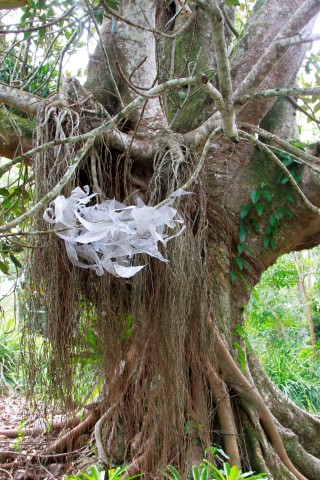 'Meshed nest' – 1m x 300cm, recycled aluminium for Sculpture on the Edge 2017, Spicers Tamarind, Maleny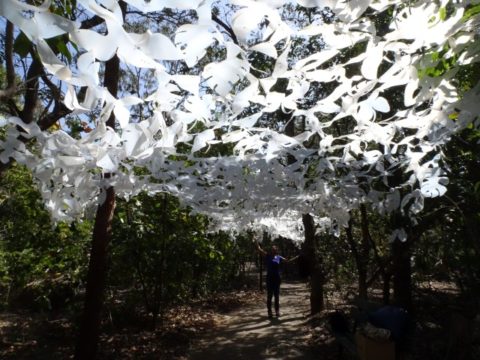 'Treescape' – 18m x 5 m, recycled plastic – a canopy installed above the pathway in Noosa Woods
for Floating Land Festival 2017, Noosa, Queensland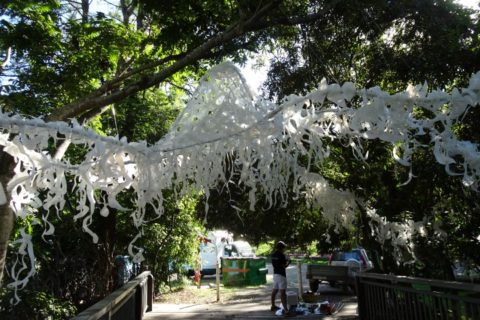 'Australis Plasticus' installed over the bridge at Woodfordia Dec 2017/Jan 2018 to the delight of Festival goers.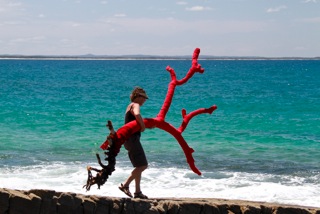 Red tree work in progress
'The Greenhouse' – Noosa Spit. 5m x 3m. recycled plastic.
A comment on Greenhouse emissions and the amount of plastic consumed by consumers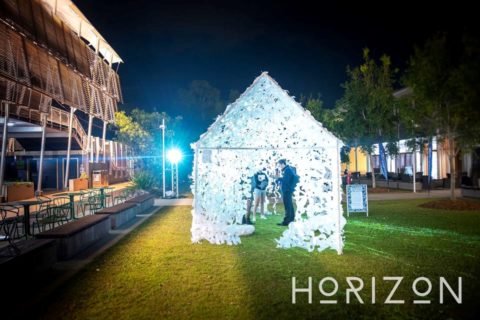 'The Greenhouse' commissioned for the Horizon Festival 2018 by the Sunshine Coast Council
5.x 3metres . Enter the Greenhouse and you as the consumer is consumed by plastic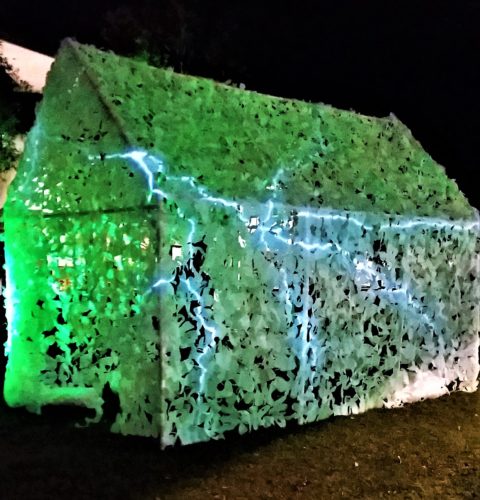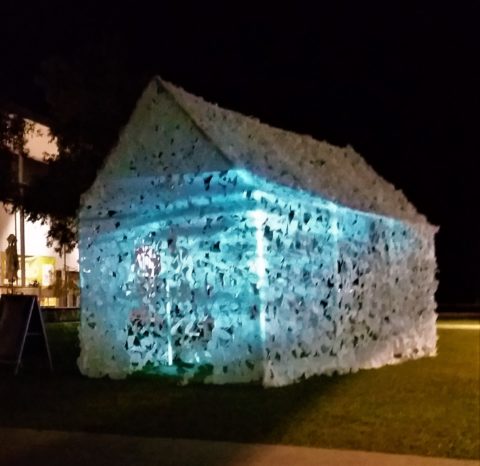 Lit by night with storm and ocean projections to highlight the effects of Climate Change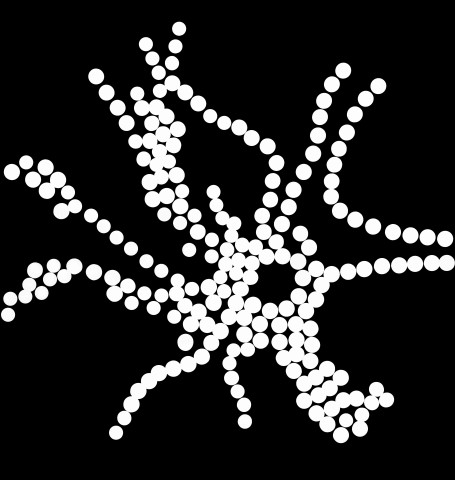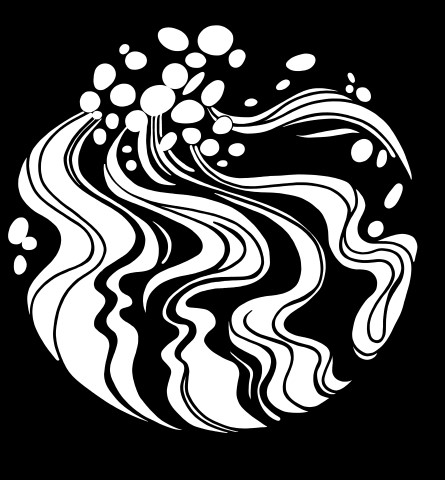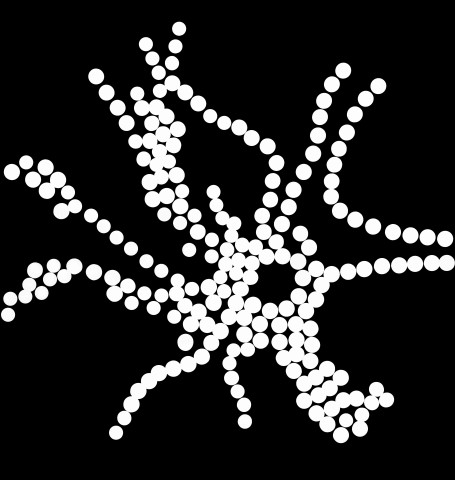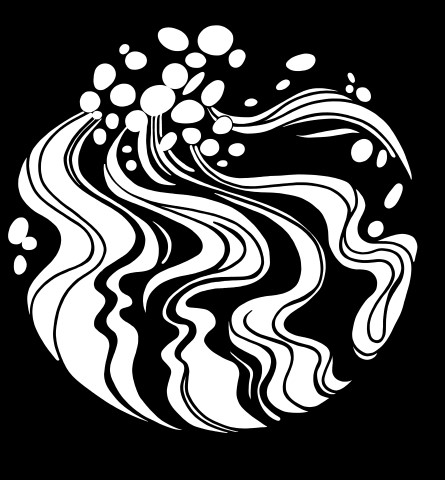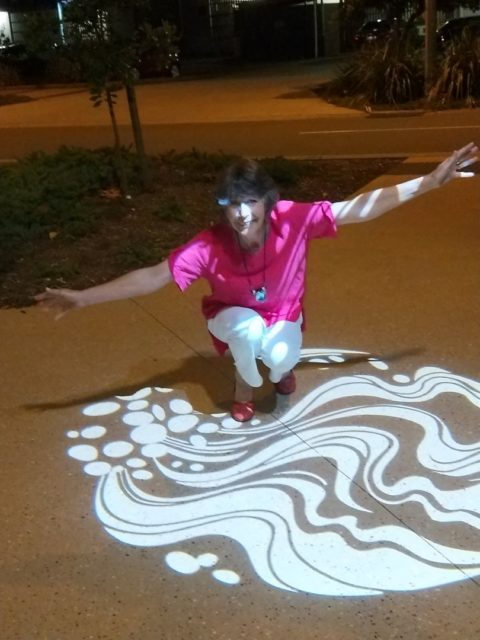 Lighting projections for the Jack Morgan Park, Coolum Beach, Queensland.
Designs inspired by nature – water droplets and the flow of water – sand crab balls – fingers of fronds
Commissioned by the Sunshine Coast Council
f:  For more installations follow us on facebook –  Art forARTsake