'Australis Plasticus' – a morphed sea creature who crawled under the Coolum Lifeguard tower as part of the Horizon Festival 2017.
Pam and Yanni – the Art forARTsake team created this 15 metre  art installation from hundreds of recycled plastic milk bottles as a comment  plastic discarded into our oceans which is a danger to our marine species.
Follow us on facebook for further installations. – ART forARTsake

'Aquarius Plasticus' – 2016 – 20m x 5m. – recycled plastic and a 9 metre canvas mural
Artists – Yanni Van Zijl and Pam Walpole – created 'Aquarius Plasticus'  for the Noosa Long Weekend Festival 2016 – a comment on the dangers of plastic in our oceans.  Pam painted a 9 metre long x 150 cm high mural to line the wall of  the ramp at 'the j' theatre, Noosa.
As part of the NOOSA LONG WEEKEND FESTIVAL 2015 , our art installation at 'the j', Noosa, Yanni and Pam have washed, de labelled and cut up over 1500 plastic milk bottles to create a huge web which suspends above the ramp at 'the j'.   Artfully lit with blue and green lights or Pink and purple, depending on the events, which look spectacular.  Using 1500 recycled plastic milk bottles, they use the very materials that creates pollution – oceans and hence marine life.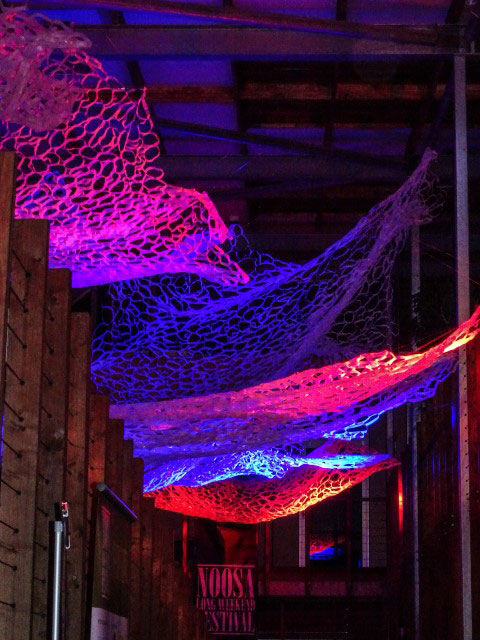 'Ebb and Flow' -2015 – lit at night – recycled plastic – 20m long x 5m wide – variable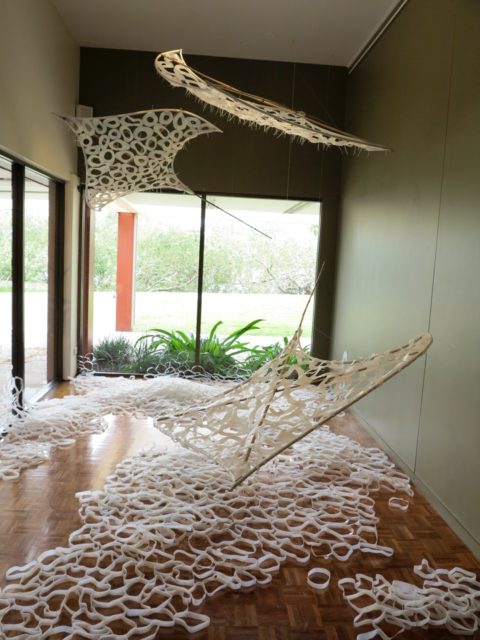 'In harmony' – recycled plastic, bamboo – 2m x 4m room. Noosa Regional Gallery 2016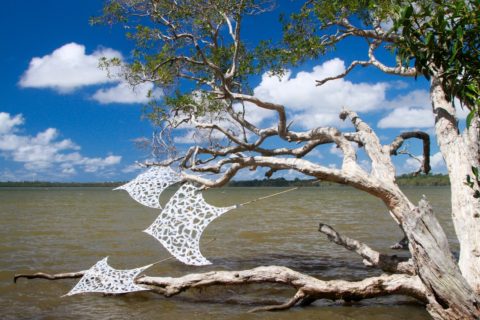 'In harmony' 2m x 3m variable bamboo , recycled plastic
 on Lake Weyba – a project for ARTsakeArt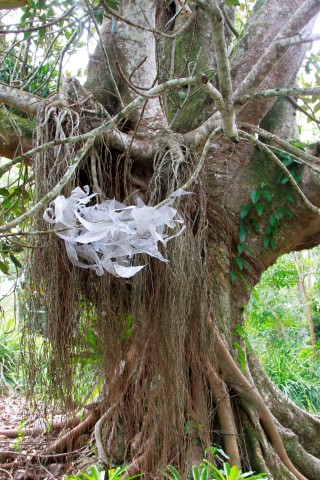 'Meshed nest' – 1m x 300cm, recycled aluminium
for Sculpture on the Edge 2017, Spicers Tamarind, Maleny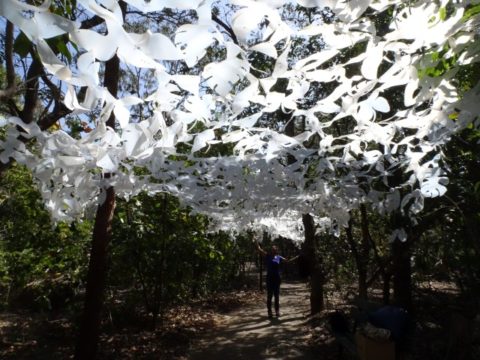 'Treescape' – 18m x 5 m, recycled plastic – installed in Noosa Woods
for Floating Land Festival, Noosa, Queensland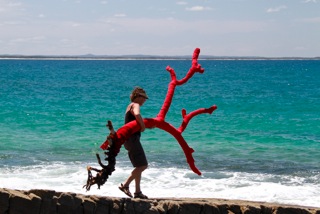 Red tree work in progress